Beauty
XXL-Size Hair – Try Volume-Heightening Spray from Nanoil
Every woman wants healthy, shiny hair which catches the eye. The right hair care, styling and haircut help us achieve such effects. A volume boosting spray – Nanoil Hair Volume Enhancer – is an expert in creating XXL-size hair!
We all dream of bouncy, luminous, fabulous hair. To lift the roots for more volume, we need to care for it on a daily basis, and know which haircuts and products make it appear thicker and denser. No matter if hair is thin or thick it needs optimal hydration, revitalization and smoothening. Even the fanciest hairstyle or cut won't look good on damaged or oily hair.
XXL-size: prime your hair for WOW volume
Hair which tends to fall flat against the scalp doesn't like heavy cosmetics. It needs a mild shampoo and gentle and effective washing – clean the scalp thoroughly, preferably twice, and rinse the lather making sure it's all gone. For nourishment choose products which don't build up on hair. If you decide on oils, make sure you rinse them thoroughly. If you go for conditioners – pick lightweight products, ideally without silicones or parabens. Alcohol-infused products don't make flat hair any better either – they cause dryness and damage to hair structure. Bleaching and coloring leave the hair thinner, weaker, less bouncy, and consequently we can't style it the way we want.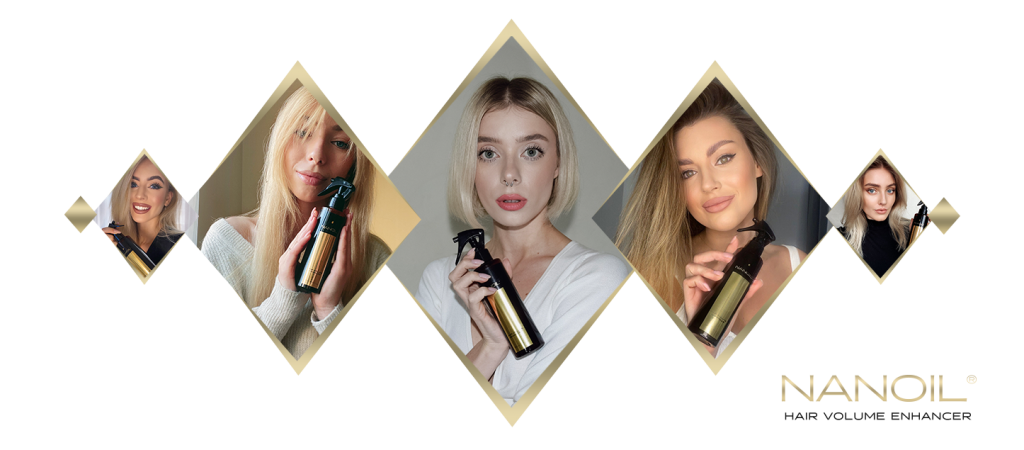 Salon-grade XXL-size hair volume
As far as haircuts go, long, thick hair will never be as voluminous as light, short strands. You can enjoy more volume if your hair is short or medium-length. A good hairdresser should suit the right haircut for your personality and preferences. What's interesting, even color may either enhance volume or take it away. If hair is all one color, it doesn't look fluffy. For XXL-size volume, try sunkissed color, balayage or sombre. Goldish highlights make the hair appear thicker and fuller. A trusted hairstylist should also recommend products to use at home, such as volumizing powders and dry shampoos, but remember not to overuse them. Otherwise they leave the hair dry and stiff. Still, there's a product which delivers wonderful all-day volume – without weighed down or greasy hair. It's a Nanoil Hair Volume Enhancer.
XXL-size hair volume every day – Nanoil's volumizing spray
Nanoil Hair Volume Enhancer is a favorite of regular consumers and professionals. Women love it for creating amazing fluffiness and gloss. The formula is based on active ingredients which effortlessly lifts the roots, leaving the hair voluminous and fluffy throughout the length.
There are four ingredients that deserve underlining. They work by building more volume and nourishing the hair while styling.
Wheat proteins – for strengthening. They have a repairing effect, prop the roots up, and leave the hair more manageable, and free from static or frizz.
Keratin – for thickening and protecting without weighing hair down. It improves the hair structure, leaves the hair denser and fixes damage. It holds water in the hair shaft.
Panthenol – for smoothening, heightening shine and smoothness, and thickening. It also protects from external factors.
Polyquaternium-70 – also builds a protective layer on hair, plus makes it easier to detangle and delivers healthy shine.
Nanoil Hair Volume Enhancer – instant volumizing effect
The effects are visible right off. Even a small amount of the spray lifts the roots so hair looks fuller and stays light for many hours. Nanoil's spray is a good choice for those who have thin and flat hair, but also those whose strands are thick and heavy. The product doesn't cause stiffness, dryness or greasiness so hair looks fresh all day.
What does Nanoil Hair Volume Enhancer do?
It instantly boosts hair volume.
It lifts the hair roots.
It is suitable for all hair types, also thin, damaged hair which falls flat quickly.
It leaves the hair thicker and denser-looking.
It delivers softness.
It makes hair easier to style and brush.
It brings beautiful shine and nourishes hair while styling.
It doesn't leave hair dry, sticky or weighed down.
It protects hair from the sun, frost and humidity.
If you want to get yourself Nanoil Hair Volume Enhancer, then we recommend the most convenient option, ordering it online through nanoil.co.uk – delivery to your door and special offers.