Beauty
Bio-Oil Dry Skin Gel. Will it replace popular Bio Oil Specialist Skincare Oil?
Women know Bio-Oil because this popular oil effectively reduces scars and stretch marks. However, the brand offers a new product: Bio-Oil dry skin gel. How does it work? Is it just as effective as the oil?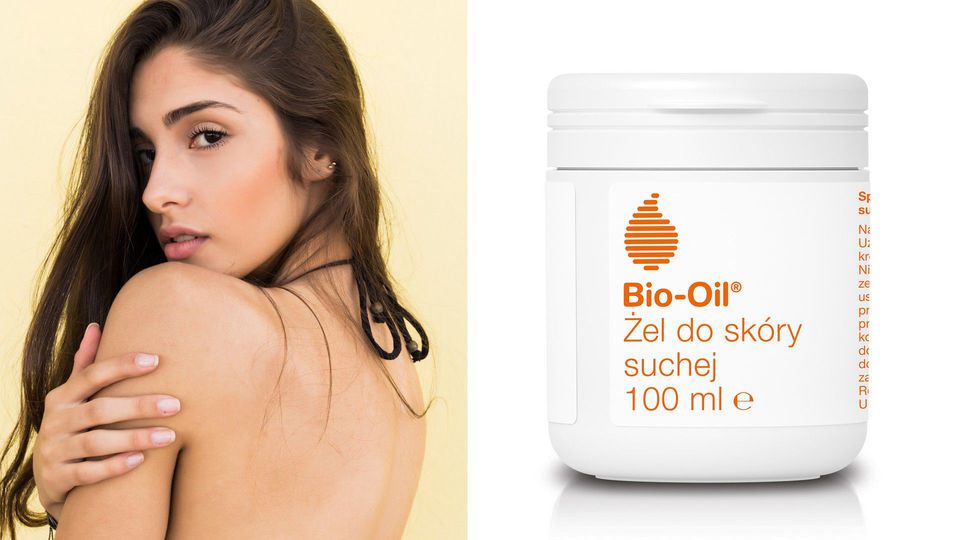 After the success of Bio-Oil's oil, which turned out to be a multipurpose cosmetic product, the manufacturers decided to launch more products. The latest one is gel for dry skin.
Bio-Oil dry skin gel
It is suitable for sensitive skin, it has a great moisturising effect as it contains many natural ingredients, effectively works on the skin and does not clog the pores. This is exactly the gel for dry skin by Bio-Oil.
It is available in three capacities: 50 ml, 100 ml and 200 ml.
What does the Bio-Oil gel for dry skin contain?
Why is it important to analyze the composition of this product? Because its action mostly depends on the ingredients. The right combination of components makes it a universal product that acts on the skin comprehensively, not only beautifying but also improving its condition day by day.
The composition of the gel consists of 90% natural oils, but there are also caring ingredients.
1. Bio-Oil oil
This is the most important ingredient in the latest product of this brand. The Bio-Oil gel for dry skin is based on the genuine Bio-Oil oil, which has an intensive regenerating effect, accelerates wound healing and reduces discolourations and stretch marks.
2. Glycerine
Glycerine is loved by some, and hated by others. Glycerine belong to the group of alcohols which is generally avoided in cosmetics. However, it has a moisturising and smoothing effect on the skin.
3. Shea butter
This ingredient comes directly from Africa. Shea butter also occurs under the name 'karité'. It can be found in creams and balms because it protects against loss of moisture and relieves irritation, hence it is an ideal ingredient for the care of sensitive and dry skin. Shea butter leaves a protective layer on the skin.
4. Urea
This is an ingredient that can be frequently encountered in cosmetics for dry skin. Why? Urea is a powerful moisturiser that provides the skin with moisture.
5. Marigold extract
This is a source of flavonoids, carotenoids and other valuable substances. Marigold has anti-inflammatory properties, accelerates wound healing, has antibacterial, cleansing and astringent effect. Some people believe that this is a natural antibiotic for dry skin.
6. Rosemary extract
Rosemary is known for its healing properties. It acts as an antioxidant, protecting from free radicals.
7. Lavender oil
Lavender oil is a natural antiseptic that has an antibacterial effect and regulates the production of skin sebum. It also has additional aromatherapeutic properties – it relaxes our body.
8. Sunflower oil
One of the most popular vegetable oils used in cosmetics that perfectly nourishes, moisturizes and smoothes the skin.
9. Soybean oil
This is another popular oil that is rich in fatty acids. For this reason, soybean oil moisturises the skin and prevents moisture loss.
10. Vitamin E
This is often called 'a vitamin of youth', because it fights free radicals and has a strong antioxidant effect. Vitamin E also supports skin regeneration, nourishes and rejuvenates.
11. Roman chamomile oil
This is an interesting and rare ingredient of cosmetic products. It has anti-inflammatory properties, so it soothes irritations and accelerates wound healing. It is great for irritated and problematic skin.
How to use Bio-Oil dry skin gel?
Dry skin needs gentle care, that is why Bio-Oil gel is a good choice.
Even a small amount of the product brings good effects – actively works on the skin. The special formula is non-comedogenic and moisturises the skin if used regularly. It is also easy to apply. The Bio-Oil dry skin gel is used just like a body lotion – a small amount should be applied to the skin gently massaging.