Deep face cleansing is the core of healthy skin care. Indeed, this seems to be an obvious thing, yet this subject often raises various doubts so we ask ourselves questions like: "Should I start with a micellar lotion or a toner?", "Is using soap to wash face skin a good idea?", "Is there a point in using a separate makeup remover for my eye skin?" or "Is it okay to apply face scrubs on a daily basis?".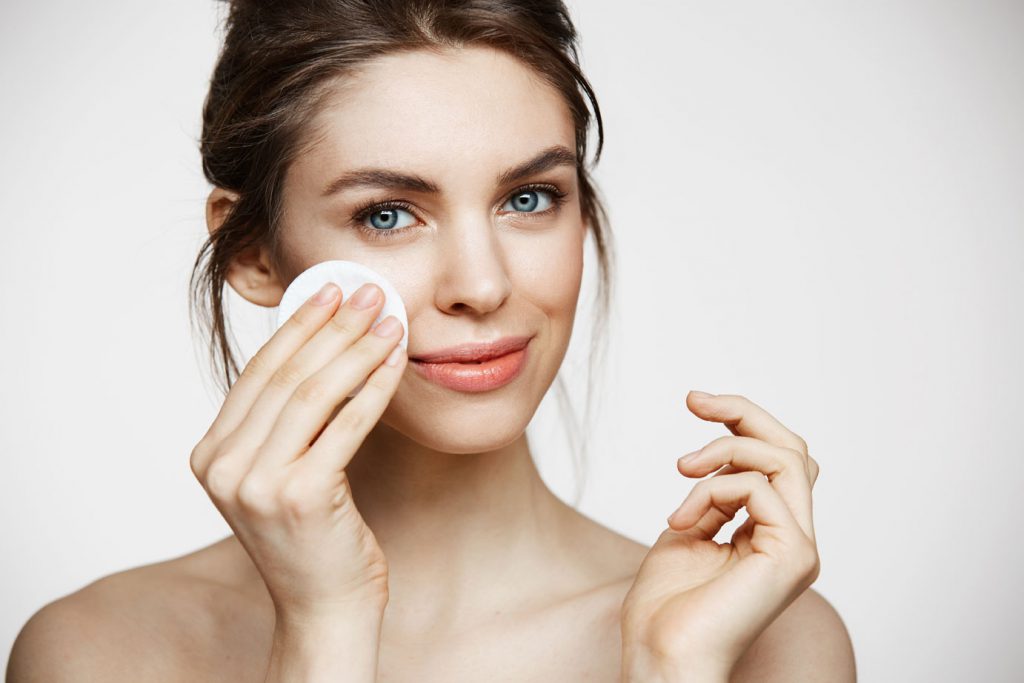 Undoubtedly, you have to make sure that your face skin is perfectly clean if you want to enjoy all the benefits of skin care products (e.g. moisturizers or serums) you apply at bedtime. Therefore, you should consider face cleansing as the first step to take in order to enjoy to flawless complexion.
Face cleansing
Every day the skin has to be freed from all the impurities such as dust, excess sebum or makeup products that gather on its surface throughout a day. Only well-cleansed dermis is able to absorb skin care products (e.g. moisturizers, serums) that we treat it with.
Another issue worth realizing is that correct makeup removal reduces the risk of acne and congestion. It's true that breakouts and blemishes are the bad consequences of us taking off makeup products in a slapdash way. Okay, we've got this settled – face cleansing is a must, but how to make skin perfectly clean? In short, this procedure doesn't require you to dehydrate and degrease the skin's surface completely. Correct face cleansing depends on removing all impurities without disturbing the natural protective barrier of the skin.
If you wake up in the morning and notice some mascara or eye pencil stains on the face, this means that the face cleansing method you currently use is insufficient. You can't expect your skin to be flawless if you fail to make it perfectly clean.
How to wash the face?
Most people associate face washing with using water only. However, many people resigned from using water to clean their faces and replaced it with micellar lotions, cleansing wipes and milk makeup removers. Sadly, giving up on water may have more drawbacks than advantages. Application of makeup removers only doesn't guarantee safe skin cleansing. More worryingly, this may lead to acne and irritations.
What face cleansers to use?
Choosing the right washing product is deemed enormously important. If you want to enjoy nice-looking skin, you have to match the face cleanser to both the skin type and its needs. Besides, such skin care products should also leave the skin conditioned, not only cleansed. This means that a face cleanser of your choice shouldn't make your skin dehydrated or tightened. Neither should it contain synthetic substances such as fragrances or colorants.
There are many mistakes to make while freeing the face from the dirt and grime. For example, it's typical of those with oily and acne skin to reach for harsh washing agents, and later our skin suffers a catastrophic consequence of this habit of ours. Oily skin mustn't be deprived of water. Such invasive skin care products cause nothing but damage to the dermis by disturbing its protective barrier. As a result, oily skin that has been dried out by a harsh cleanser starts producing even more sebum and oils which leads to breakouts and congested skin pores.
What should you choose: Soap or cleansing oil?
The oldest face cleanser is soap, obviously. A regular bar of soap's pH is more alkaline when compared to the natural skin's pH, and this is where its bad reputation comes from. Indeed, the fact that commercial bars of soap deprives skin of water is totally true. Yet not all soaps in the world are like that. Luckily, the cosmetic industry offers plenty of soaps that are proven beneficial for face skin. Which one should attract your attention? Look for Aleppo soap and natural soaps formulated with oils and cosmetic butters. You can recognize them by squeezing – such products are far softer than regular bars of soap. People with oily, acne and problematic skin can use such soaps freely.
There are also cleansing gels, which in fact are really popular. They are formulated with washing agents that in most cases aren't harsh on the skin. However, before treating your face with such a product, better read the list of ingredients to check if this cosmetic is composed of controversial substances that may leave your delicate skin irritated. Also, try to eliminate the face cleansers containing ingredients that contribute to skin dryness.