Tips & Tricks
Powder Face Cleanser – Will It Become a Hit in My Bathroom?
Face skin soaps (e.g. charcoal or Aleppo), all kinds of cosmetic mousses and cleansers are the most popular products for washing the skin and removing makeup. However, are they the best? Many women give up on them and reach for oils – OCM is a brilliant ritual of cleansing the skin with oils and it's been known for ages. Still, there are girls who aren't fond of it. A powder cleanser turned out to be strong competition. Have you heard of it? It is a new arrival which gathers excellent reviews as a product which effectively purifies the skin and lets you get rid of makeup residue. A powder cleanser has a chance of becoming second-to-none cleansing product. Will you introduce it into your bathroom? Discover the assets of a powder cleanser and try out its amazing effect.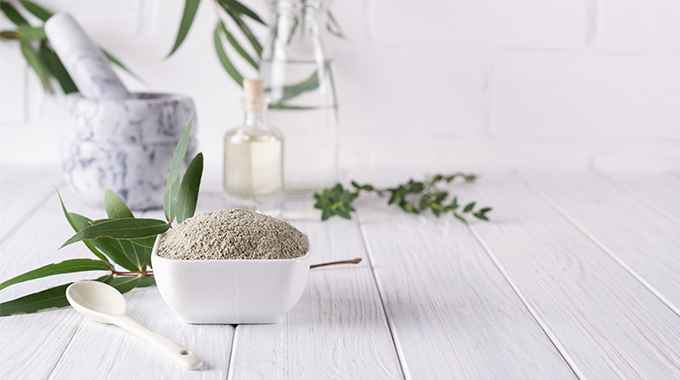 A new way to cleanse the skin – what is a powder cleanser?
Every skin type is going to take to a cleansing powder. Above all, it is delicate. It soothes and conditions the skin, deeply purifies the pores, not leaving the skin dry. It has loose consistency whereas the cosmetic clay makes up its base – it is usually white clay because it is the mildest and gives excellent conditioning effect, not causing the feeling of tight skin. Such a product often contains other natural skin-enhancing ingredients as well: ground rolled oats or flaked almonds, flower waters, natural oils which have a revitalising and rejuvenating effect; essential oils also can be found in some products. A powder face cleanser is extremely easy to use and – what's most important – it lasts very long and – despite natural ingredients – it has a long shelf life.
Powder face cleanser – qualities, benefits
an all-natural product;
rich in skin-enhancing white clay;
abounds in natural oils and flower waters;
alleviates irritations;
effectively and deeply purifies the skin, not causing irritation;
evens out the skin tone;
helps get rid of pigmentation and age spots;
removes post-sun spots;
smoothes out the skin;
removes impurities and toxins;
closes skin pores and purifies them;
boosts glow;
nourishes and freshens up;
neither irritates nor triggers allergic reactions;
absorbs sebum and prevents shiny T-zone;
leaves skin smooth and satin-like.
How to use a cleansing powder?
A powder face cleanser is an extremely convenient option for keeping the skin clean and flawless. Use it in two ways:
1. Face cleansing paste
Mix a bit of the powder with water and apply it to damp skin (dampen the face with water, flower water, herbal infusion, etc.). Massage your face for a few minutes using gentle circular motions working the paste through skin – this kind of massage stimulates blood flow and skin renewal processes. When the lather forms, rinse it out with warm water. Dry the face with a towel and use a favorite toner.
2. Powder face cleansing mask
If your skin needs repair and really in-depth purification, add your favorite flower water and natural oil instead of running water.
Mix the ingredients well as if you were making a cosmetic clay mask.
I usually add one teaspoon of flower water and oil each to a teaspoon of the powder. Apply the resulting mix to the face skin and leave on for 10 minutes. Afterwards, rinse out the cleansing mask using lukewarm water. While preparing the mixture, remember that every cosmetic clay – including the one in a powder cleanser – loses its properties in contact with metal. For mixing the cleansing powders with cosmetic clays, use plastic or wooden spoons or sticks.
Powder face cleanser – where to buy, price
The price isn't at all exorbitant whereas the product is really efficient. A high-quality cleansing powder is available at every store which sells natural cosmetics. If you prefer you can try a cosmetic clay first – it also excellently complements makeup removal and additionally replaces a powder, dry shampoo and facial mask.