Tips & Tricks
Sunless tanning: How to use self tanners to stay streak-free?
Sun rays happen to be treacherous – undoubtedly, they get you this much-desired natural-looking glow on one hand, but on the other sun exposure accelerates photoageing and destroys collagen in the skin. Wrinkles and resilience loss are the unpleasant consequences of frequent sunbathing. Fortunately those who wish to get sun-kissed skin without exposing the body to the sunlight can reach for a self tanner.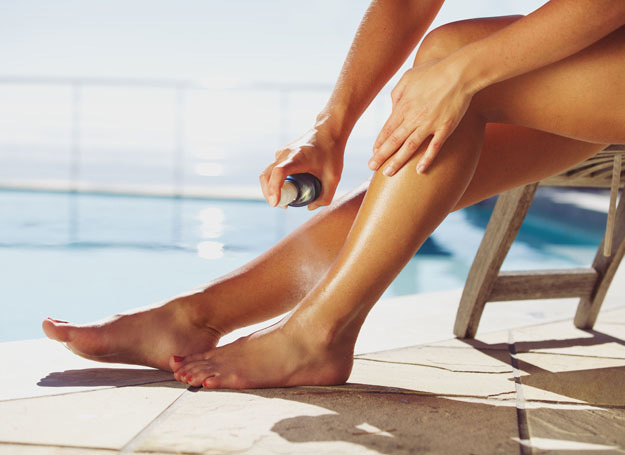 Bronzer tanning lotions deliver amazingly good effects and create a fake tan that can be worn all year. It's important though to know how to apply such products correctly. Keep reading to find out which type of self tanner is the most suitable for you and how to spread it on the body to prevent smudges and streaks.
Self tanner: Pluses & minuses of using the Sun hidden in a cream
Body and face tanning products are a way for sunless tanning. Still, this alternative isn't the most favorable one. It happens that sometimes the directions for use are too complicated, the texture of a product you have chosen isn't pleasant and impedes spreading it over the body. And when applied unskillfully, self tanners tend to create smudges and other bad-looking stains, which nobody wants to have.
Have they already come up with a self tanner that doesn't leave any streaks on the body? Naturally, they do! And the very products are all-natural. Many women say that there are some self tanners leaving a characteristic and very unpleasant smell on the body, often described as the smell of burning. It appears that this very nasty aroma is produced by the artificial substances that some self tanners are formulated with. Luckily, there are some tanning products that not only guarantee you streak-free fake tan but they also don't smell bad. You just have to learn how to find such products.
Face and body self tanner: Why should you use it?
Sun-kissed skin looks healthy, youthful and radiant. Such skin doesn't reveal imperfections, the tan covers up pigmentation spots and the body looks slimmer. Self tanners are especially useful in the winter, late autumn and early spring, when the skin gets more and more pale and becomes dull. Luckily, self tanning lotions make the body look much prettier and create the healthy glow on the skin.
Which self tanner to choose?
Always pay attention to the ingredients used and the product's texture. Self tanner doesn't have to be filled with chemicals. Luckily, now you can find natural beauty products that apart from creating fake tan, they also take good care of the skin. Such self tanners make use of the plants that are known for being able to color the skin – walnut extracts, carrot extracts and even some sugar-based substances. On top of that, such tanners smell wonderful and don't stain clothes, provided that you applied them correctly.
Using self tanners that are formulated with natural ingredients has another advantage. Containing a huge portion of vitamin E and natural SPF, such products provide skin with sun protection and combat free radicals. Therefore, if you want to get yourself a decent self tanner, always check its constituents and choose a product that is composed of natural ingredients. Last but definitely not least, bronzing products often contain artificial ingredients that contribute to skin dryness.
Remember!
A good self tanner:
isn't formulated with synthetic colorants
is free from silicones, paraffinum, PEGs and mineral oils
is dermatologically tested
contains natural-origin ingredients that leaves the skin nourished
How to apply a self tanner the right way?
Exfoliate your body and face with a scrub – remove dead skin cells to prepare the skin for a self tanner.
Apply the cosmetic to the skin and spread it evenly. Be extra careful with your knees, elbows and ankles since these are the very areas when self tanners tent to create streaks and stains.
Let the skin absorb the bronzing lotion and later put on clothes.
Wash the hands and wrists carefully to avoid stains.