Ingrown hairs are a problem that affects many women who remove unwanted hairs. Although this treatment makes the skin smooth for a long time, the hairs start to grow back and some of them can't rise up from the skin. What are the causes of ingrown hairs and how to prevent them? How do dermocosmetics and scrubs work? Is laser hair removal effective? What are the causes of folliculitis and how to treat it?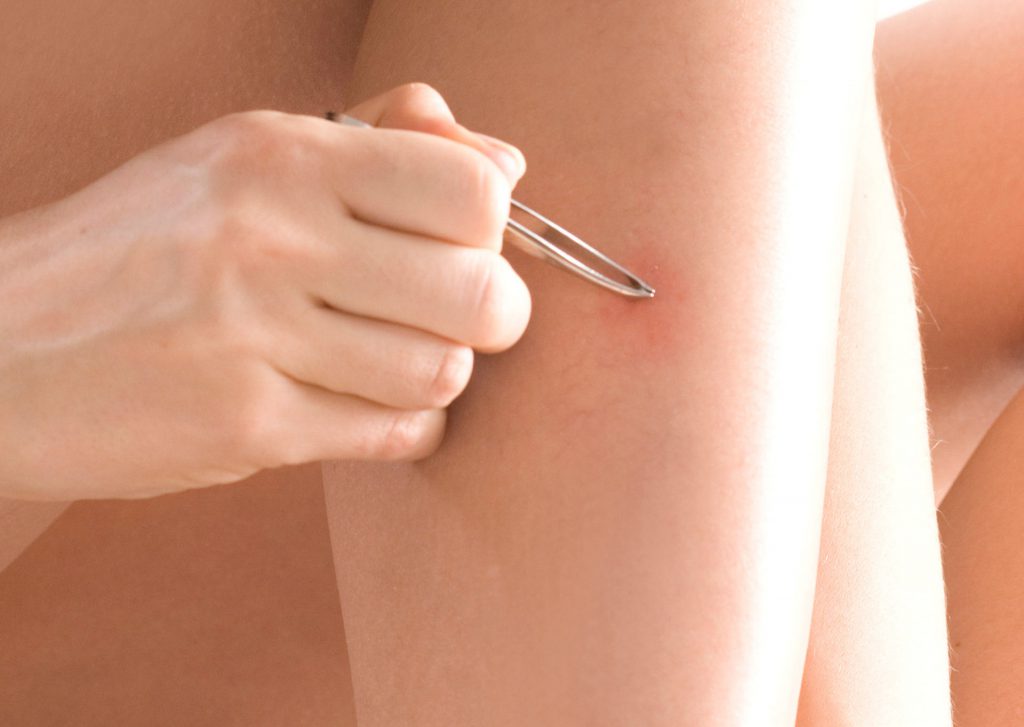 Ingrown hairs – causes
Usually, an ingrown hair is a painful consequence of waxing or using an electric epilator. Sometimes ingrown hairs are caused by the use of disposable razors, especially blunt ones. Regardless of the method chosen, some people just have a tendency for ingrown hairs.
Remedies for ingrown hairs
Ingrown hairs can lead to acute inflammation and painful bumps. In this case you should see a dermatologist who will probably recommend a different method of hair removal.
Dermocosmetics
Dermocosmetics with glycolic, salicylic or lactic acid will help to reduce the problem with ingrown hairs. Such products are available in drugstores and pharmacies. They soften the skin so that the hairs can easily get through it.
Scrubs
Another effective remedy for ingrown hairs is a scrub, specially made with the use of sugar, salt, soda, coffee or ground apricot kernels. Such preparations can be either bought or prepared with honey, coconut oil or olive oil. It is easier for a hair to grow if the skin is exfoliated. Instead of using the scrub, you can use a rough sponge, a glove or a body brush. The effect will be similar, only the skin will not be nourished as much as it would be with a prepared scrub. For this reason, after the massage moisturise the body with a body lotion or coconut oil. In addition, the massage with the sponge should not be too intensive or performed more often than every two weeks. Otherwise, the epidermis will regenerate faster than before.
To soften the skin and facilitate hair growth you can also use ordinary salt. To do this, add the spoonful of salt to the glass of lukewarm water, soak a cotton pad in it and apply to the skin twice a day.
Laser hair removal
The above-described methods for ingrown hairs can be used only prophylactically. They help to prevent this problem and, once it's cured, they properly care for the skin.
If your ingrown hairs are extremely troublesome, laser hair removal can be a good solution. This procedure not only removes hair but also soothes the skin. Laser removes even ingrown hairs because laser radiation is absorbed by the melanin of hair follicles and skin. Once the hair bulb is removed, it does not renew. For a permanent result a series of treatments is needed. The precise number depends on the properties of the hair, such as its colour or structure.
How to treat folliculitis?
Folliculitis can be cured with aspirin. To do this, dissolve two tablets in a tablespoon of water and mix with a tablespoon of honey. The paste should be applied to the skin and left for 10 minutes.
You can also use tea to soothe irritations. Tannic acid contained in tea reduces redness, soothes inflammation and has antibacterial properties.
Another effective way to cure folliculitis is the use of aloe vera. It is enough to apply the aloe juice to the skin two times a day.